A robust Manufacturing / Inventory / Production control system that tracks your jobs from first contact to final invoice. Jobs offer a BOM, Task scheduling, job costing and more. Detailed reports menu offers many production and scheduling reports. The system exports invoices and purchase orders to AccountEdge accounting software or post directly to QuickBooks accounting software. Sold completely unlocked to allow customization to fit your special needs.This full featured system includes tracking for:
Contact Us to schedule an online demonstration of this powerful software. The CB Production base model can be modified to suit any manufacturing environment. Talk to us about your special needs and let us provide a detailed estimate.
"I want to express my enthusiastic satisfaction with the CB Production product that we have recently implemented as our sales and manufacturing operating system. Your help with the customization and implementation have made this the most seamless implementation that I have ever been involved with."
"The system is working beautifully! I?ve looked out there several times this morning as they are bantering around processes and ideas and they are all smiles! THANKS!!!"
The Contacts area shows information about not only your customers, vendors and prospects but your employees as well. For your customers, you can store bill to, ship to and additional contact information. You can also view the contact log, to-do items, email the contact or view documents related to the contact. A transaction history is also available from this screen.
The Inventory Control area shows details, adjustments and counts. It also includes a button to connect with your QuickBooks accounting software. View selling and buying details, a bill of materials, estimated labor costs, supply and demand, usage history and bar lengths relative to each part you have. Convenient buttons allow you to duplicate your item and create an order or job from this screen.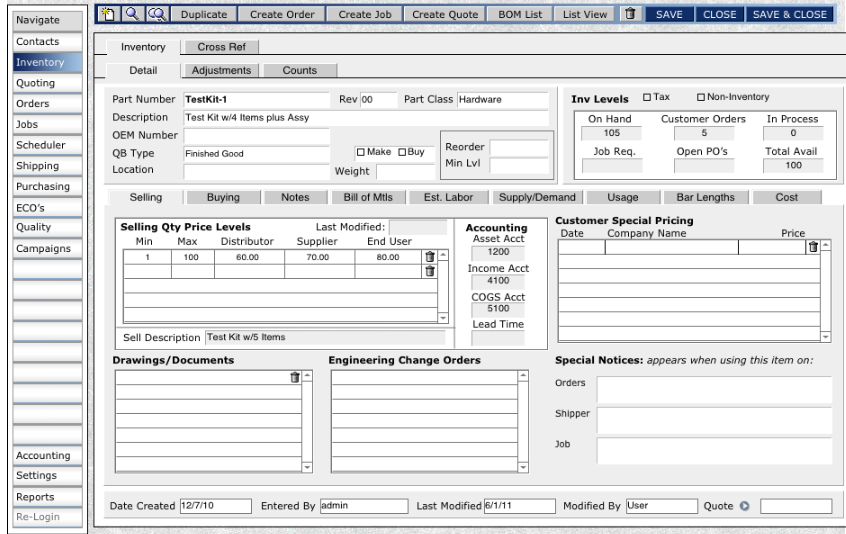 The Order Entry area allows you to create and track customer orders, with the ability to monitor back orders and create jobs to build units on order. Ship partial or full orders, and track document approvals with 4 status levels on special orders. Process credit card payments for advance deposits on the order.
The Quote Worksheet area allows creation of quotes for jobs. Enter or calculate quote details, a bill of materials and labor and service costs. View documents related to the quote, RFQ's and even track the status of the quote from this screen.
Call us for a free consultation about your manufacturing needs and a live demonstration to see the power of CB Production